Art gallery now also online
Posted On 09-07-2021
Finally, after 1.5 years we could travel to Sweden again and see our father(-in-law) and Roswitha again. Of course, we have been kept informed of all the developments at Tolvsbo, but it is really beautiful to see it for ourselves. Especially the new gallery caught our attention. And since we are working on the website, we thought it would be perfect if the gallery could receive more attention, not only physically, but also online.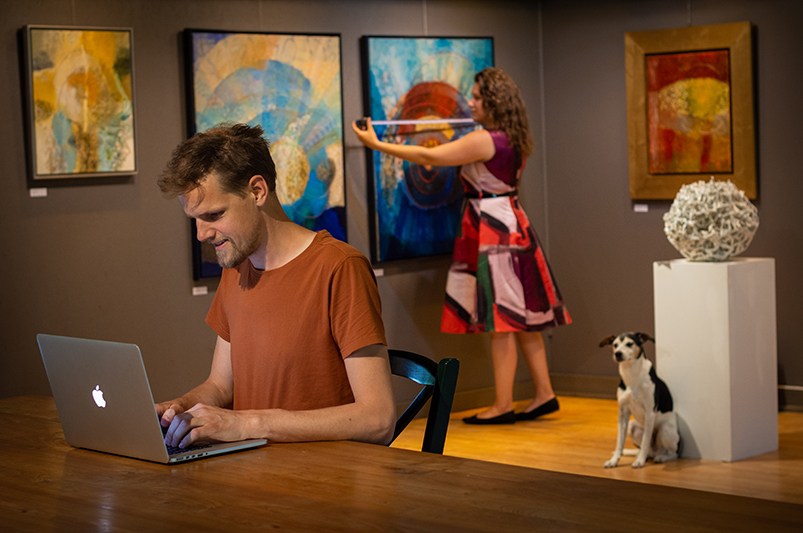 After a day of recuperation from our 17-hour car trip from the Netherlands, we took out our laptops and added the artwork to the webshop. Four artists are currently presenting their works in the gallery and each work of art has now been given a page stating the price, size and materials used. Every artist uses his/her own techniques, and in the gallery you can find works of art from ceramics and photography to acrylic and dry pastel.
If you are a real art lover you should visit the art route Konst runt Barken from July 7 to 10. Konst runt Barken is an arts & crafts route where professionals and amateurs exhibit in their shops, ateliers, lodges, outbuildings and gardens. The Tolvsbo gallery is part of this route and in our opinion, it is an absolute must-see.
We are very proud of how Roswitha and Fridus are getting through these difficult times. It was not always easy for everyone and the hospitality industry, in particular, has been hit hard. Also for Tolvsbo, it has been a tough year, and that is precisely why we hope that many of you will visit the restaurant and the gallery, and perhaps buy one of the marvellous pieces of art exhibited here!
We will drive back to the Netherlands by the end of July, but hope to see all your website visits at www.tolvsbo.se online. Enjoy the beautiful art and see you soon on the website!
With love,
Irian & Stephanie